ProLocksmith  London is a leading provider of commercial locksmith services in London. Commercial properties require the highest level of locksmith services due to the sensitivity of the information and expensive equipment on site. If you are looking for an affordable and professional commercial Locksmith near me in London, chances are you will find Pro Locksmith London in the search results.
Regardless of the kind of service you are looking for, you can rely on us for the best quality services available. Our 24h locksmith London services for commercial properties are perfect if you are locked out of a commercial building and cannot wait for services. As a commercial locksmith in London, we ensure we offer fast and dependable services. We are proud of our expert team's dedication, expertise, and experience. Therefore, if you're in search of a Locksmith Near Me, Trust Pro Locksmith to deliver the best service throughout London.
Call us for Fast and Reliable Commercial locksmith services in London. We are looking forward to hearing from you.
A Tried and Tested Locksmith Service in London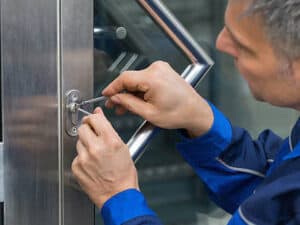 BS3621 is the British Standard that we follow when supplying locks, alarm systems, and security systems. A Kitemark label confirms that a product has been independently tested and meets the relevant British Standard. In this way, you will be both legally compliant and covered by your insurance policy in case you ever need to file a claim.
The locksmiths we hire have all been trained and CRB-checked. Furthermore, we are also regarded as a trusted contractor by local councils and the London Metropolitan Police. Business customers benefit from discounted rates with multiple locks from us. If you hire us for a large project, we will send you an invoice with a 30-day payment period.
MLA-approved Commercial Locksmith Service in London
Locksmiths Pro work with a wide range of commercial businesses, landlords, estate agents, and housing associations across London. We are Master Locksmiths Association-accredited which means, we provide top-of-the-line service and expertise, but at an exceptionally low price.
Commercial Locksmith services provided by Pro Locksmith:
Commercial buildings usually require different security systems from residential or automotive spaces. Our professionals at Pro Locksmith specialize in the type of locks used in establishments and corporations. Commercial locksmith services offered by Pro Locksmith are as follows:
Commercial Key Cutting service
Making copies of existing keys can be helpful – and professional locksmiths can create accurate copies quickly and efficiently. Additionally, they can make a duplicate key from the lock (if not already present). A new lock can be expensive, but it will offer peace of mind to the property owner.
Commercial Lock-Out Assistance
Locking yourself out of your commercial space can be upsetting and frightening, a trained locksmith should be able to pick the appropriate locks for your commercial space quickly and without error. They can also help you in the case of a broken lock and a new lock being installed in its place.
You should carefully research any locksmith you intend on hiring for the security of your business, residence, or vehicle. It is important to choose a locksmith with the right credentials, licenses, and customer referrals. Pro Locksmiths London can be your trusted partner for all your lock and key needs. Because we know how inconvenient a commercial lockout can be, we rush to your property as soon as you contact us.
Commercial lock Re-keying
Rekeying a lock means removing the original keys so that you will not be able to use your original keys. The reconfigured lock is keyed to a new key. An alternative to buying new locks, this procedure is affordable.
Commercial Door Lock Services
At Pro Locksmiths London, our trained locksmiths provide innovative solutions for issues relating to doors. Besides door closers and frames, we also install and repair emergency exits, handicapped exits, and door frames.
Cylindrical or Mortise Locks
Cylindrical or Mortice Lock systems are usually installed on doors around the world and offer different levels of protection. Both types of locks can be installed by a professional locksmith.
Mortice locks come equipped with a deadbolt and use the widely used thumb latch handle. These are typically made of brass. Typically, these locks are difficult to install since they require drilling into the door and carving individual components. The deadbolt on these door handles provides an added layer of security.
Modern buildings are more likely to use cylindrical locks. The lockset is connected to the latch with two holes drilled in the door. These locks do not include a deadbolt, however.
Access Control
A secure workplace requires you to know who has access to what part of it and to maintain strict controls. Controlled access systems can help with tracking and recording this information, creating a safer work environment, and providing such as security logs as well as information about employee activities.
Commercial Safe Installation, Servicing, and Combination Changes
Business owners who keep valuables on-site usually invest in security safes to keep all their valuables in. If you want your safes to work effectively throughout the year, keep them regularly serviced and repaired. In order to prevent malfunctions, safes have moving parts that must be maintained. Locksmiths can also change the combination of safes on a regular basis.
Master Key System  Installation
A Master Key System ensures that only authorized key holders can access specific areas of your commercial buildings, your home, or both, from the same key.
Master Key Systems are an excellent option since you don't have to carry around a large number of keys to enter different buildings. We offer single key access for multiple locks, secure key registration offsite, and replacement keys upon request.
As part of the Master Key Service, Pro Locksmiths offer customer-specific design, supply, and installation services. In addition to providing after-installation services, we provide key management, lock, and key inventories, and replacement key and lock services with rapid response.
High-Security Locks
High-security locks come at a high price point but they can be exceedingly difficult to break which them an effective deterrent to burglaries and thefts.
High-security locks provide greater security than ordinary locks. You can increase business security by installing drill-proof locks. A lock like this will prevent criminals from easily breaking into your building. Some high-tech locks have keypads or are compatible with smartphones. Security systems for businesses come with a lot of confusing options to choose from. The combination of high-tech access systems with CCTV provides an additional level of security that business owners need. Theft prevention is the biggest concern of a business owner. The installation of High-security lock systems is an intelligent decision to protect your business that can be efficiently done by a seasoned locksmith like Pro Locksmiths.
Electrified Strikes Installation
The use of electric strikes in office space has become increasingly common. Locks like these can be manually or automatically operated. A release switch or access card enables, for instance, security personnel or receptionists to open doors. When the doors close, they automatically lock. Electrified strikes can be used in combination with Closed-circuit cameras or intercom systems for added t security.
Panic Bar Installation
Panic bars are horizontal bars positioned on the inside of a door that opens outward. By pushing the flat bar, a latch mechanism retracts, allowing a fast door exit. With a standard crash bar door, users do not need any knowledge or keys to operate it and it is ADA-compliant.
At Pro Locksmiths London, our  Panic exit device specialists can come to you anywhere in the London area to meet your needs for panic bars for fire doors, and install them professionally and workmanlike.
Commercial CCTV installation
A CCTV system installed in your office will perform two functions: deter unwanted intruders, and provide peace of mind to employees. Today's CCTV systems are far more advanced and offer full-color, high-resolution images that can be viewed at night just as well as during the daytime.
At Pro Locksmiths London,  We work with top CCTV and security solution manufacturers from across the globe. Our team is certified to install and service some of the most popular CCTV camera brands in the UK. As a result, we have high standards to maintain and always aim to provide superior service.
Call Us Now For Emergency Locksmith Services In London
Since 2008, Pro Locksmith  has offered commercial locksmith services in London and surrounding areas for businesses and retail locations. With services that range from basic re-keying to access control and camera systems, Pro Locksmith does it all. We have proudly been serving London businesses for over a decade now. You can count on Pro Locksmiths London for all your commercial locksmith and security needs.
We don't charge for call outs
Our company is one of the most affordable locksmith services in London since you never pay a call-out charge.  You can contact us to request a FREE consultation with a locksmith about the security of your home. Then we will provide an estimate for your home security upgrade that is free and without obligation. Call us so that we can arrange a time and date to inspect your property.
Call now!
LOOKING FOR HONEST AND RELIABLE SERVICES?
Best Locksmiths in London
Make An Appointment Today With Our Online Form